Wondering what to see and do? There's a lot more than you might expect, we'll take a look at the top things to do in Bundaberg, and where to eat, stay and play while you're here.
Off the coast of Bundaberg is the Southern Great Barrier Reef with coral islands, stunning beaches and turquoise waters. It's heaven for those that love snorkelling and diving, and the marine wildlife experiences are a major drawcard for many visitors.
Back on the mainland, there are plenty more pristine beaches and the turtles come ashore each year in their hundreds to lay their eggs but you might be surprised what lies just a few minutes inland. Lush soil and hard yakka have turned the region into a diverse food bowl producing around a quarter of Australia's fresh produce. With a climate that allows a year-round supply of many crops, a diversity that will impress, and some creative (and delicious) solutions to local problems, Bundaberg has earned its place on the culinary tourism map.
1. Turtle experiences in Mon Repo
Our very first visit to Bundaberg was to see the turtles come ashore in Mon Repo to lay their eggs. We were lucky to have a Loggerhead spotted soon after we arrived at the information centre so we headed out with the guide to see her digging a nest in the sandy dunes above the high tide mark to lay her eggs.
On a later visit, we watched as tiny green turtle hatchlings hurried down the beach towards the outgoing tide. They all made it safely into the water and out of sight so I like to think that the survival rate from the hatching might be just a touch higher than the average.
The turtle season runs from November until February and you are more likely to see them laying eggs early in the season and the hatchlings run for the horizon later in the season.
Located at 141 Mon Repos Rd, Mon Repos QLD 4670, it's only open in season so check dates and times here on the official site.
2. Explore Bargara
Not 20 minutes from downtown Bundaberg and you are on the gorgeous sandy beaches of Bargara. This is the most popular area for visitors to stay, especially if their reason for being in town is leisure-based.
Bargara is level with the northern tip of Fraser Island which provides some shelter to the mainland beaches and makes them great swimming for all the family. You probably won't pack your surfboard but there can still be enough wave action to have some fun with a boogie board.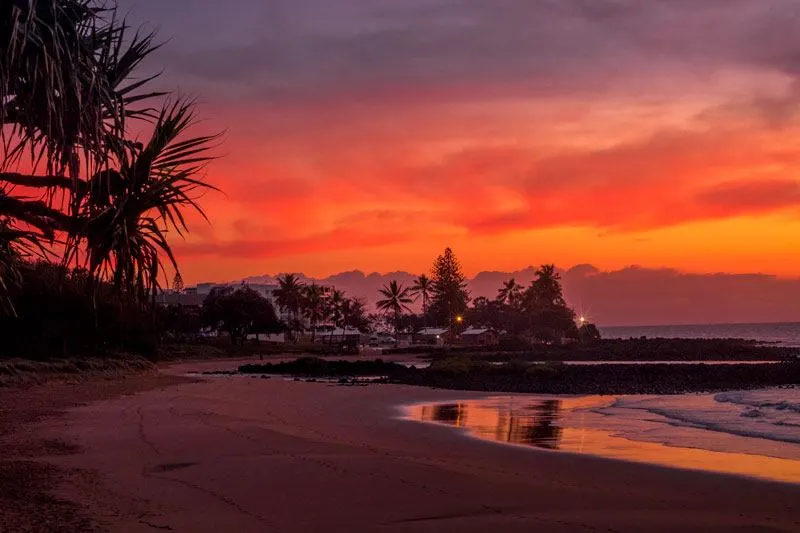 Bargara has a beachy village vibe with some great little cafes, bars and small shops but is also now serviced by 2 good-sized supermarkets, a bakery and a bottle store. It's very easy to set yourself up here and self-cater for a longer stay. If that's your preferred style the majority of the accommodation is well set up for it too.
If you're camping or caravanning there are several parks in the area and we can personally recommend the Bargara Beach Caravan Park at the northern end of the beach. They are very popular especially during the mild winter season so if you want a caravan site get your booking in early.
3. Bundaberg Rum Distillery
Bundaberg is a sugar cane town, it's a major crop and the mill provides a substantial amount of work for the region. A by-product of sugar production is molasses and it was the troubling issue of what to do with the excess of molasses that inspired 15 enterprising locals to come up with the idea of a rum distillery in 1888. The rest, as they say, is history and despite a few setbacks over the years, it's bigger and more successful today than it's ever been.
You can take a tour of the factory with a tasting at the end for those of age, or for rum lovers and enthusiasts, there's the Blend your own Rum experience. I had the chance to try it out and it's fascinating, I felt a bit like a mad scientist with my beakers and pipettes but they assured me it's impossible to make a bad or 'wrong' combination it's just about creating something attuned to your personal tastes.
The Bundaberg Distillery is at Hills St, Bundaberg East QLD 4670 and you can learn more about visitor experiences, the museum and tastings on the official site.
4. Snorkelling off Barolin Rocks
While getting out to the southern Barrier Reef islands is highly recommended there is also some great snorkelling or even diving available directly from the shore. The coastline around Bundaberg is predominantly basalt rock that erupted from an ancient volcano over a million years ago and it makes for some very clear water and great snorkelling.
The Barolin Rocks dive site is located south of Bargara and north of Elliott Heads, it's part of the 11,000-hectare Woongarra Marine Park. Don't think being accessed directly from the shore makes it any less impressive as a dive site, you definitely want to pack your dive gear if you have it. If not this is also some really excellent snorkelling. There are not that many spots up the Queensland coast where I'd recommend you can snorkel directly from the shore but here you should be able to see a good quantity of fish including colourful tropical varieties, coral, anemones and if you're lucky some of the turtles the region is so famed for.
5. Great food wherever you look
The Bundaberg – Burnett region is one of Australia's most productive and diverse food bowl regions. If you enjoy fresh and locally grown produce, artisan and small batch production or restaurants with talented and innovative chefs, then you will love Bundaberg.
We've recently updated our guide on the top places to eat in Bundaberg, it's never a hardship to research and refresh the latest seasonal menus for that one, there really are some top picks.
6.Visit Bundaberg Brew
Bundaberg's ginger beer is famous but for the full range of local soft drinks, you'll want to head to Bundaberg Brew. There is a big choice of old favourites and new creations. Stop in for a look and stock up on what takes your fancy or do the tour. Situated in this oversized half-barrel you won't miss it as you drive through town.
On the tour, you'll learn how the local drinks brand is crafted and bottled, taste them all because one or two is never enough and experience the interactive displays. You'll also leave with an included 6 pack for later.
Tickets, pricing and availability at Bundaberg Brew
7. Pay homage to the Hummock
The Hummock is revered locally for being the only hill in the area and therefore visible from all around town. However, the Hummock has two special attractions for visitors. First being the only elevated point for miles around you'll want to head up for a 270-degree view out from the lookout across the patchwork of farmland, out to the coast, into town and the inland ranges in the extreme distance.
It will also be of interest as this tiny remnant hill was once a far more impressive volcano that we can thank for the wonderfully rich red and productive soil that allows the region to produce so many of its incredible crops.
8. Cycle the Turtle Trail
This walking and cycling path was opened a few years ago now and runs from Kelly Beach at the southern end of Bargara north to Burnett Heads and you can continue on around to the Port. All up it's around a 25 km cycle, or select any section of it for an interesting and picturesque walk.
We wrote a dedicated article with all you need to know about cycling the Bundaberg turtle trail if you want to give it a try. We bought our own bikes up when we did it but I noticed on this trip that you can rent them in the village.
9. The Botanic Gardens
Bundaberg has an excellent botanic garden and it's a good spot for birding enthusiasts along with the nearby Baldwin Wetland Park. Within the gardens is the Hinkler Hall of Aviation museum, Hinkler House and also the Sugar History Museum set underneath the beautiful Fairymead House with its own sugar history.
Within the gardens are an excellent Chinese and Japanese garden section, large ponds and for the younger kids, the miniature train on the weekends is a hit. A great spot to wander or find a seat in the sun to relax.
10. Lady Elliott and Lady Musgrave Islands
While I've not been out to the islands of the southern Great Barrier Reef I'm told by everyone I've met who has been that these should be on your bucket list if you possibly can. We hope to tick them off our list very soon.
Lady Elliott is completely encircled by its reef so you need to fly in making it the more expensive option for a day trip although you can stay overnight out there.
Lady Musgrave Island is a day trip from Bundaberg Port Marina, you cruise out and through the winter you are very likely to see whales along the way, then you can take a glass-bottom boat tour, go snorkelling or diving from the boat within the reef or take a guided walk on the island.
11. Explore Woodgate
A 40-minute drive from the city centre will have you in the beachside village of Woodgate. This relaxed community is a great place for a day trip or plan to stay for a while, if you like the outdoors there is plenty to do here. The main beach is a 16-kilometre sweep of gorgeous white sand with a backdrop of she-oak trees. It's a lovely beach to walk and while it's not patrolled it's usually good swimming in the shelter of Fraser Island.
Woodgate is also known for the mobs of kangaroos that wander through from the National Park behind and take up any shady spot in the trees backing onto the beach, parks and local gardens. You're most likely to spot them around dawn and dusk but it's rare to come here and not see them.
For those who like fishing both the river mouth that divides Woodgate from Burrum Heads in the South and the Theodolite River in the north are good options. The Theodolite Creek area is a popular local spot, with very pretty, turquoise waters, great for stand-up paddleboarding, kayaking, walking the beach or just enjoying your spot in the sand.
The bush backdrop also provides some good walking tracks and excellent wildlife and birding spots. From the Walkers Point day-use area, you have the Melaleuca track at 12.3km and the Bird Hide walk at 6 km offering coastal walking through the saltpans and bush.
Another popular walk starts just behind the caravan park in the village. The Banksia track is 5.2 km and takes you through tea trees, palm groves and wildflowers in late winter and spring, with a short boardwalk section.
Get more tips for your visit to Woodgate
12. Whale Watching
If you take a day trip out to Musgrave Island during the whale migration season (June – October) you'll almost certainly spot whales during your cruise. You are also only a 90-minute drive from Hervey Bay, a place we believe to be one of the best spots in the world to see Humpback whales as they often stop in the bay for a length of time and are more relaxed and inquisitive than we have seen them on many other whale watching trips we have taken.
Read more about our Hervey Bay whale experiences or the multitude of things to do in Hervey Bay.
13. Take a self-guided wine trail to nearby Childers
No more than a 45-minute drive from central Bundaberg and you're in Childers. It's a gorgeous historical town that has been preserved and enhanced so do take a wander around while you're there. Queensland isn't really known for its wines, the tropical climate and growing grapes generally don't mix particularly well, however, Childers has tackled this head-on with 4 speciality vineyards to explore.
Terry and Mary run the award-winning boutique winery, Hill of Promise. Their wines are all produced on the premises in the traditional way without preservatives or additives. They run tastings from the cellar door and you're welcome to bring along your picnic basket or pick up some treats in town, and extend your stay with a picnic in their rustic gardens.
Ohana winery and exotic fruits specialise in tropical fruit wines and liqueurs. They run a tour of the orchard together with tastings of both their range of tropical fruits and their unique wines. Then round out your visit with a stop at Brierley Wines followed by lunch or a platter with your tastings at Vintners Secret vineyard.
14. The Taste Bundaberg Festival
If you going to be in town over winter you'll want to watch out for the annual Taste Bundaberg festival. Region Queensland knows how to pull off a food festival so I highly recommend you get along to a few events if you're able to be around Bundaberg during June.
It runs over 10 days and incorporates a whole host of different food events from markets to garden parties, special events and openings to music and festival nights. It's all designed to highlight the fresh local produce of the Bundaberg and the North Burnett region.
Bundaberg Accommodation
As a visitor to the region, you'll likely want to stay out in Bargara near the beach. There are some fabulous choices out there to suit most budgets and travel styles.
Holiday homes are a popular choice and there is a good variety. I recently stayed at Beach at your Feet, a 3 bedroom house right off the sand at Kellys Beach. Such a gorgeous space with a patio and tiered lawn that leads right down to the sand and a perfect spot to watch the gorgeous sunrise each morning we were there. Many of these holiday homes can be booked through Christine and Michael at Bargara Coastal Accommodation.
Two other great options along here for self-contained apartments in the mid-range price point are The Point Resort and Bargara Blue Resort. These are suited to couples or families with resort-style facilities and are slightly closer to the restaurants, bars, and shopping precinct
For those that like to camp and caravan, or are interested in the holiday park option there's Bargara Beach Caravan Park at the northern end of the beach close to the walkway through to Mon Repo. They also offer cabins and again you are right across from the park and beach with an easy walk to the shops and restaurants along the promenade.
---
Have you explored Bundaberg and the Southern Barrier Reef? Let us know your must-see spots, foodie secrets and travel tips in the comments below.
Save these images to Pinterest for future reference