Sanjusangendo is an unique and impressive temple in Kyoto. It dates back to 1164 and is famous for it's 1001 golden statues of Kannon, goddess of mercy.
[separator type="thin"]
We explored Sanjusangendo as part of our self guided walking tour through eastern Kyoto. For this leg we headed north east from Kyoto Station to find Rengeo-in Temple which is much better known as Sanjusangendo. It's famous for its 1001 statues of Kannon, the goddess of mercy, but as we'll see there is more to be seen here and it's well worth a stop.
This is the third installment in our Walking Kyoto series. If you click these links you can read the introduction which includes links to subsequent segments of the Eastern Kyoto walking trail, or Kyoto Station, our starting point for this section of the walk. Of course you many not want to walk at all and we've also included details for getting to Sanjusangendo by public transport below.
Sanjusangendo Temple
Sanjusangendo translates literally as the hall (do) with 33 (san ju san) spaces between the columns (gen). It refers to the interval between the buildings supporting columns and is a traditional measurement in Japan. The building is 120 metres long which we're told makes it Japans longest wooden building.
Sanjusangendo was founded in 1164 and was fully rebuilt in the original style in 1266 after it was burned down. Some parts are newer, there was a gate added around 1600 by Toyotomi Hideyoshi and the orange corridor in the gardens is a recent addition.
To be honest though, despite the historical building, unusual cherry blossom and a pretty garden the reason we jumped off the train from Tokyo and set off immediately on foot to see it on our first day in the city was what is displayed inside the hall.
What's Inside Sanjusangendo
Inside Sanjusangendo are 1001 carved images of Kannon the goddess of mercy, standing before them are the 28 Buddhist dieties who protect the universe and two temple guardians, the god of thunder (Raijin) and wind (Fujin).
The central temple image is a 3.3m seated statue of Kannon with 11 faces and 1000 arms, it was carved by Tankei in 1254 and is designated as a National Treasure. This image is surrounded by 1000 more life size Kannons carved in Japanese cypress and covered in gold leaf. Twenty four of the statues were rescued from the fire in the original temple in the 13th century while the rest were recreated during that period.
The public aren't allowed to take photographs inside the Sanjusangendo hall. I believe this is to preserve the peaceful experience for everyone and ensure the temple is treated with the correct respect. There isn't a Buddhist belief that discourages images of artifacts being taken so I purchased the official postcards within the temple and include those here. Full credit for the interior photos below is to Sanjusangendo temple.
I hope this glimpse will encourage you to go inside and see this amazing sight when in Kyoto. You will regret it if you just stop as we saw one tour bus do and let the 40 people off to take a selfie of the outside then jump back onto the bus again.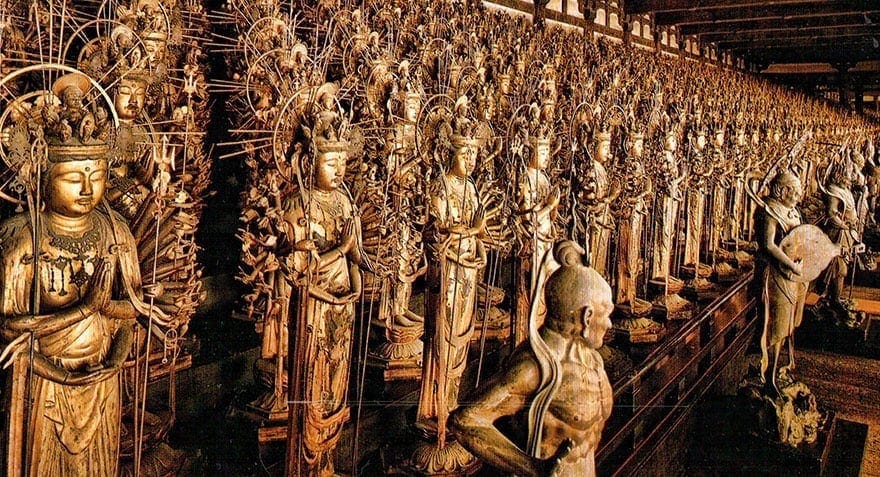 [columns_row width="half"]
[column]
[/column]
[column]
[/column]
[/columns_row]
Also at Sanjusangendo
As you arrive you will see the temple is mostly surrounded in gravel down both sides with few trees or other ornamentation. This makes the temple ideal for an annual archery festival in January which is held as part of coming of age day. During the event young people in traditional dress compete to hit a target 60 metres away with the arrow. The competition teaches them as adults that they will need patience and focus.
The garden area is small and includes the large brass temple bell, a traditionally styled garden and a relatively recent addition of the orange corridor. On the eastern side is a small shinto shrine which appeared quite old but I haven't been able to find any additional information on its history.
[columns_row width="third"]
[column]
[/column]
[column]
[/column]
[column]
[/column]
[/columns_row]
Getting to Sanjusangendo
From Kyoto station the walk will take about 20 minutes and is 1.6km. You don't need to follow a particular route on foot as the streets in Kyoto are laid out in a rough grid system. Work your way north to the next major east-west road which is Shichijo Dori then east, crossing the river until you come to the temple on the right.
If you don't feel like walking the 100, 206 or 208 bus will get you there too from Kyoto Station for Y230 in around 10 minutes.
Facilities, Fees and Finer Details
Entry to Sanjusangendo costs Y600. It's opening hours are 8am-5pm April-October and 9am-4pm November to March.
There are public toilets and a gift shop on site. There was a drink machine available but no tearooms. The Kyoto National Museum is located directly across the road.
Before entering the hall you will be required to remove your shoes, storage cubbys are provided to neatly store them until you return. I must have been tired by the end of the afternoon because while I was putting my boots back on I commented to Drew on the huge amount of cherry blossom petals blowing around outside – it was actually snow falling, the first time I had ever seen fresh snow fall so while others huddled in the shelter I rushed out to enjoy the new experience … #nodecorum.
The next stop on on our virtual eastern Kyoto walking tour is Kiyomizudera temple and the surrounding area just click on the link to continue on. Join us for the full walking tour or just the segments that interest you most.
Have you visited Sanjusangendo temple while in Kyoto? From what we've seen around Japan since it seems quite unique. Please let me know your thoughts in the comments below or share your favourite temple, cathedral or mosque visited around the globe?